Hello There, I will give you today an important thing about Cyberpunk 2077's cutscenes, Enjoy :).
After The Witcher games let us see Geralt in third-person, whether riding horses or relaxing in the tub, many were surprised by Cyberpunk 2077's first-person perspective. Early footage showed cutscenes in third-person though, with personalized versions of V in various cool jackets. That's apparently changed, however.
After a German interview with Night City Life was picked over on the CD Projekt Red forums (with some interesting details about how rooms in The Witcher 3 had to be designed with extra space so Geralt didn't bump into a table before the camera had time to follow him in), a user approached the official Cyberpunk 2077 Twitter account to ask whether cutscenes would be in first-person. "In Cyberpunk 2077, immersion is very important to us," came the reply, "so yes, cutscenes are fpp".
"And what about sex scenes?" asked the persistent fan. "Same".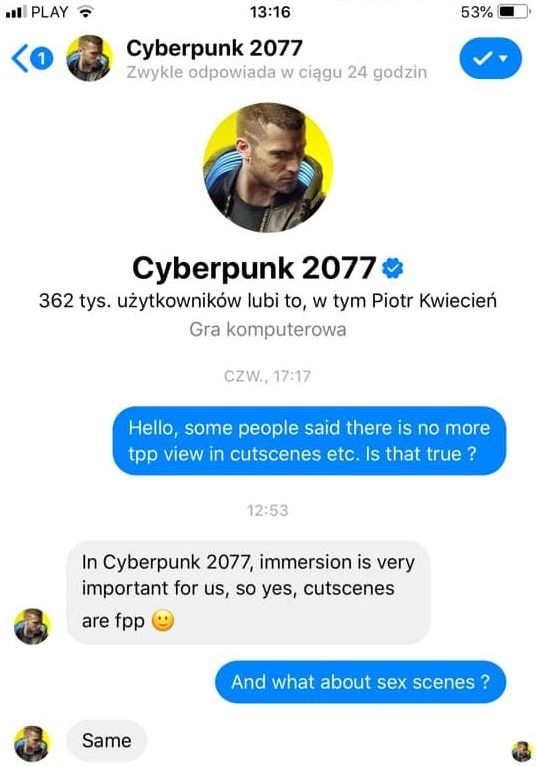 In the footage released so far we've seen a third-person option for driving, as well as moments when V is seen through a security camera, cyberoptics, and mirrors, but it seems like we won't be able to see our customized V elsewhere.
"If you want more posts like that, Leave a comment and stay tuned for new news!"
By Hamdy M.[ Facebook – Instagram ]
1,142 total views, 19 views today